This is the post where I give a review of the movie currently on high rotation in the DVD player and where I discuss some of the tricky aspects of being a feminist mother trying to raise her kids amidst a culture chock a block full of toxic, pernicious pornified *over-marketed crap.  So much of what is marketed at kids, at girls in particular, is not particularly healthy.  (While the vast majority of the stuff that is marketed as being for children is extremely gender bifurcated, I think that girls stuff can tend to be worse because there's a sexual/sexualised element tendency in girls toys –  such as these dolls).
A very good friend of mine lent me this movie for my five year old girl to watch, she also wanted to know what I thought of it.  She had purchased in a fit of desperation, in a search for something, anything, that her girls would like that wasn't princesses.  She was fed up with Princesses.  She just wanted something where the role of the protagonist involved something more than securing her prince.  And that how she ended up with Disney's latest offering, Tinkerbell.  In comparison to what her girls had been watching, she loved it.  "Tinkerbell's a Tinker!  She has a trade! She does something, she works with her hands! Here! Watch it!  Kindergarten Girl will love it! You'll love it! It's great!"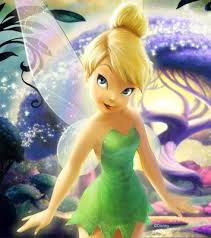 Indeed, Kindergarten Girl does love it.  The way her face glowed when the movie started was beautiful to behold.  Her eyes lit up as the music started, when there's that castle with the starry backdrop.  Disney does do magic sooo well.  And yes it is a lovely movie.  The characters are sassy, funny, and erudite ( one even uses the word 'elucidate' ).  The music is beautiful and the animation gorgeous.  No princes in sight.  The plot revolves about the 'being happy with who you are' bit that seems all the rage in kids/teens movies these days (although in this case, like an awful lot of movies, the character learning self acceptance just happens to be the best at some particular thing and ends up the hero of the day – does this message help us mere mortals learn self acceptance I wonder?)
I do like it, but of course I have, shall I say, reservations about the movie.  I am not enamoured of Tinkerbell's sexy, svelte look.  Big eyes, hips and curvy figure encased in a short dress.  In fact, the scene where she gives herself a make-over and emerges in her green outfit to have one of her male friends be so dazzled by her look that he fails to recognise her, and her other male friend has his glasses pop out in shock, is my least favourite.  Is it really necessary to fixate on her appearance?  The other aspect of the movie that doesn't grab me, is the plot device that revolves around the jealous, bitchy character.  To my mind, its stereotypical teenage behaviour being modelled to little girls.  I don't know, maybe I'm just being picky, as there is lots to like about the movie, especially the knowing references to the Peter Pan story.
That's the thing with these movies, they are being marketed on two levels.  On the one hand they are designed to be appealing to kids.  On the other hand, they are designed to be enjoyed by adults also. If the adults enjoy a movie, they are much more likely to let the kids watch it, over and over, and over and over again.  If I don't like a movie, I'm much more likely to try and convince suggest to my kids that they might like to watch something else.  So kids movies, and especially Disney's, are full of adult jokes and sophisticated humour just so us parents will be willing accomplices in our kids obsessions.  And a whole world of merchandising purchase potential is opened up.
So compromise.  That's what I do.  I let my kids watch stuff I have misgivings about for two reasons.  One, they are their own persons, their own little selves and I can't control their personalities and tastes (of course I do try to rein in the unacceptable impulses that young kids are want to have, but overall I'm an influence not a dictator  – and I'll not exposure them to stuff that I think is entirely inappropriate).  Two, I feel that I'm trying to strike that balance, the middle ground, where they are aware of the pop culture stuff around them  but not too embroiled in all of it.  I am attempting to rise environmentally aware kids, with a feminist conscience.  So, for me, that means trying not be sucked into consumeristic materialism but at the same time letting them explore their interests and follow where their imagination leads them.
* It is not the princess stuff, per se, that I object to, its the RELENTLESS marketing of ubiquitious products peddling a dubious version of compulsory femininity.  From here "Playing princess is not the issue," argues Lyn Mikel Brown, an author, with Sharon Lamb, of "Packaging Girlhood: Rescuing Our Daughters From Marketers' Schemes." "The issue is 25,000 Princess products," says Brown, a professor of education and human development at Colby College. "When one thing is so dominant, then it's no longer a choice: it's a mandate, cannibalizing all other forms of play. There's the illusion of more choices out there for girls, but if you look around, you'll see their choices are steadily narrowing."